By all accounts, the 16th Annual Porubsky Symposium and Alumni Event was a rousing success. The weekend started off with a highly informative educational conference with wide-ranging lectures from faculty, residents and honored guest speakers. We were very lucky to be joined by Dr. Howard Francis, Chief of the Division of Head and Neck Surgery and Communication Sciences at Duke University, as our keynote speaker. His first lecture included an overview of otolaryngology's position in the world of population health, specifically addressing the challenges (and potential upside) of increased government and payor focus on quality as well as imparting important strategies for the recognition and avoidance of burnout. The following day, Dr. Francis described some elegant work he had performed to improve surgical skills education and assessment. Both lectures were very well received and generated important discussion among attendees.
We were also excited to introduce a new element to our yearly symposium by introducing our inaugural Resident and Fellow Alumni speakers. Representing our fantastic cohort of Resident Alumni was Dr. Tammara Watts, Associate Professor of Otolaryngology at the University of Texas Medical Branch in Galveston, TX. She gave an enlightening lecture on the role of stromal cells in the tumor microenvironment, bringing the excitement of discovery through basic science to life for all in attendance. Our Fellowship Alumni were represented by Dr. Troy Woodard, Assistant Professor and Co-Director of the Advanced Rhinology and Endoscopic Skull Base Surgery Center at the Cleveland Clinic Foundation in Cleveland, OH. Dr. Woodard provided a review of his thoughtful, step-wise approach to reconstructing defects of the skull base. The combination of lectures from our three excellent guest speakers including global health economics, medical education, basic science and clinical medicine made for quite a well-rounded educational experience!
Following the educational conference, we had a fun and highly competitive Porubsky Golf Tournament. This was won by Drs. Keith Holmes, Thomas Holmes, Michael Groves and Howard Francis, marking the first time a guest speaker has ever been a part of the winning team! The weekend was capped off with a wonderful recognition dinner for our graduating chiefs and fellows. Overall, the weekend was a fantastic success, and we look forward to the 17th Annual Porubsky Symposium and Alumni Event June 14-15, 2019!
Alumni reminisce with Dr. Porubsky during the graduation festivities. (left to right) David McKee ('82), Bill Roberts ('83), Tom Crews ('86), Edward Porubsky (Professor Emeritus), Dan Toland ('85)
Other resident and alumni news
Hail 

Farewell

Congratulations: 2018 Consultant of the Year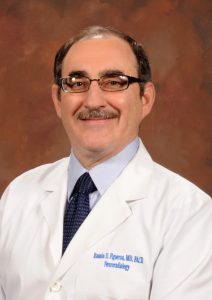 We are delighted to announce that Ramon E. Figueroa, MD was the unanimous selection for the Department of Otolaryngology Consultant of the Year for 2018. Dr. Figueroa is Professor and Chief of Neuroradiology in the Department of Radiology and Imaging at Augusta University. He received his medical degree and completed his residency training in diagnostic radiology from the University of Puerto Rico, and completed a fellowship in neuroradiology at the Medical College of Georgia. After fellowship, he joined the faculty at MCG and has become an authority in his field. He is an excellent neuroradiologist, one of the best in the country, and everyone in our department has benefitted from his service. We are immensely grateful for the care that Dr. Figueroa provides our patients.