Michael A. Jensen, MS,MI, CMI, MS, CMI, Cargill H. Alleyne, Jr., MD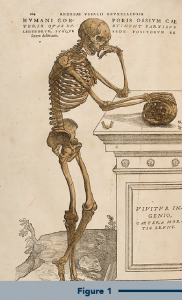 Medical illustration is a fascinating but often misunderstood branch of art, and has remained that way through much of its history. And yet, medical illustration continues to be an essential and integral part of both medical education and of medical practice. Medical Illustrators are highly trained visual artists who communicate complex scientific ideas in a meaningful, aesthetic and understandable manner. They train, teach and educate all the various branches of medical professionals through their art. Arguably, the first medical illustrators were among the Renaissance artists of the 15th and 16th centuries, such as Leonardo da Vinci and Stefan van Calcar, who illustrated the first anatomy textbook, "de Humani Corporis Fabrica" by anatomist Andreas Vesalius (figure 1).
As anatomical understanding and medical education in the late 19th century accelerated, schools for the training of medical illustrators began to appear,with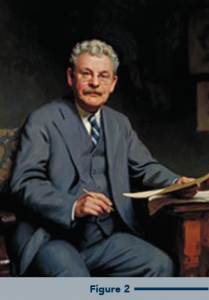 the first school being established at Johns Hopkins School of Medicine in 1911 by Max Brödel (figure 2). Neurosurgeons such as Harvey Cushing (figure 3) were particularly interested in the contribution of medical art in their practice, and so many of the first modern illustrations created were related to neurosurgery. The friendship between Cushing, the father of American neurosurgery, and Brödel, the father of medical illustration, began at Johns Hopkins where Cushing would fastidiously illustrate each of his surgical cases once completed. The two remained lifelong friends and exchanged letters well into advanced age. Figure 4 shows a playful rendering of Brödel by Cushing.
Brödel (1870-1941) directed the medical illustration program at Johns Hopkins until his retirement in 1940. One of his protégés, Jack Wilson, was brought to the Medical College of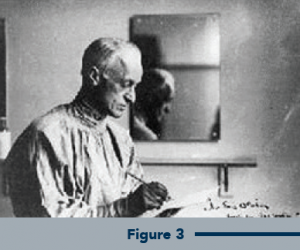 Georgia (MCG) in April 1948 by President, Dr. G. Lombard Kelly, to illustrate for the faculty. More importantly, Mr. Wilson was also charged with developing an academic medical art program, similar to that at Johns Hopkins. Working with a second former Brödel student, Orville Parkes (Figure 5), Wilson developed a graduate curriculum which was approved in 1949. Parkes became the first director of the MCG Medical Illustration Graduate Program, and served from 1949 until his retirement in 1974. The first graduate of the program in 1951 was Robert C. Benassi, who for many years was the head of the Section of Medical Illustration at the Mayo Clinic.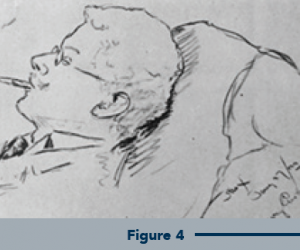 The Medical Illustration Graduate Program at MCG (now Augusta University) was the first accredited graduate program of its kind in the world. It has enjoyed uninterrupted accreditation since 1967, and this month, the program graduated its 373rd medical illustrator. In keeping with the relationship established by Dr. Cushing, many of these individuals have specialized in neurosurgical, neurological, and neuroanatomical illustration. In 1959, Dr. George C. Smith (the first Chief of the Division of Neurosurgery) hired program graduate Frances DeRoller as the first medical illustrator in the Division Neurosurgery, a position she held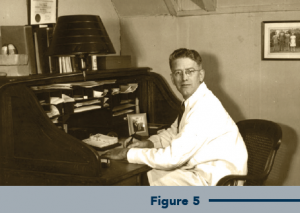 until her death in 1973. In the years following, an impressive list of some of the most successful medical illustrators in the business have worked at MCG Neurosurgery, including Octavia Garlington, David Mascaro, Milton Burroughs, Steve Harrison, Andrew E.B. Swift, Andrew J. Rekito and Michael A. Jensen. Currently, MCG/AU alumna Colby Polonsky adds her talents to this legacy, serving as medical illustrator for the Department of Neurosurgery. Examples of the art of some of these illustrators are seen in Figures 6-10.
As medical knowledge and surgical innovations improve the quality of life, medical illustrators will continue to play their part behind the scenes, documenting and elucidating that information through fascinating and authoritative imagery.
Representative art by illustrators
Figure 6: Osler's likeness, (Cushing; colorized by Jensen)
Figure 7: Brain and heart (Harrison)
Figure 8: Cavernous malformation resection (Rekito)
Figure 9: Ned's Head (Jensen)
Figure 10: Myelin sheath destruction (Polonsky)