Any procedure available nationwide is here at the Children's Hospital of Georgia
Even when babies are born full term, their mother's health can place them at high risk for heart complications.
Such was the case of a recent baby born at the Children's Hospital of Georgia, whose mother had diabetes along with a history of severe hypotrophic cardiomyopathy and pulmonary hypertension. With an associated septal wall thickening, the baby suffered from biventricular dysfunction, digressing to tachycardia, respiratory distress and decreased cardiac output.
Beta blockers, along with venous arterial extracorporeal membrane oxygenation (VA-ECMO), were used to treat the infant in the neonatal intensive care unit. But after four weeks, another major complication: The baby, weighing only 4 kilograms, was found to have a 4-centimeter aortic artery aneurysm.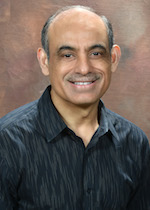 "With the literature citing only one other case of aneurysm formation after ECMO, with no account of the management, the hybrid catheterization lab at the Children's Hospital of Georgia carefully considered all the complexities of the case—a newborn baby and the importance of maintaining flow to the right arm while still occluding the aneurysm—before performing a successful percutaneous repair," said Dr. Zahid Amin, William B. Strong Chair and Professor and Chief in the Division of Pediatric Cardiology.
Amin joined the Children's Hospital of Georgia four years ago from Chicago's Rush University Medical Center to build the pediatric interventional cardiology program. Today, the program offers every procedure available at any children's hospital across the nation, including several available at only a few hospitals nationwide, such as those for very small infants weighing 12 kg or less. Procedures include:
Stenting for patent ductus arteriosis in premature infants and older babies as an alternative to surgical shunting
Percutaneous valve repair, including in children and adolescents. In most cases, children go home the next morning and may return to school within a couple of days.
Hybrid percutaneous valve repair in children weighing 12 kg or less
Hybrid ventricular septal defect closure
Hybrid atrial septal defect closure
Pediatric interventional cardiology and in particular hybrid procedures are an attractive option since they offer a number of benefits to the pediatric patient and the family: a shorter recovery and minimal scarring, which is particularly important if a child's heart condition requires numerous treatments. Infants and children undergoing interventional procedures also often do not require bypass, avoiding those risks and potential complications.
In addition, many congenital heart conditions are diagnosed in utero, and another benefit of the pediatric heart program at the Children's Hospital of Georgia is that both the mother and her baby can receive care under one roof. The labor and delivery department is only steps away from the NICU, making recovery and treatment more comforting and convenient for the entire family.
"As the region's only children's hospital, families throughout the region and their providers can rest assured that they don't need to travel elsewhere for their care," said Amin. "Our quality measures meet or exceed national standards for both surgery and interventional procedures. Together, we will come up with the best possible plan to care for both mother and baby."