Advanced fetal care services offer a continuum of care for mothers and babies diagnosed in utero
It's estimated that every year, about 150,000 babies in the United States are born with some type of congenital defect.
While treatments aren't available for certain abnormalities, many others can be repaired, either in utero or immediately after birth. Planning for these treatments starts during pregnancy and requires a hospital that specializes in the multiple services these families need.
"That's what we have here at the Children's Hospital of Georgia," said Dr. Charles Howell, Surgeon-in- Chief and Co-Medical Director.
As one of only a few centers in Georgia and South Carolina with these services, Children's Hospital of Georgia's advanced fetal care services offers consultations for OB/GYNs caring for families of children with fetal abnormalities from across the state. For these complicated cases, the medical center offers a team approach, which starts with maternal-fetal medicine specialists and also includes neonatologists, neonatal nurses, pediatric radiologists and pediatric surgeons from various subspecialties such as heart, general/thoracic surgery, urology, otolaryngology and neurosurgery.
Our advanced fetal care services also offer families several unique features. Since one concern is the risk of early labor, families from outside the area may be asked to remain in Augusta starting a few weeks prior to the delivery date—a potential hardship. But unlike other centers, an on-campus Ronald McDonald House is located just a short walk away from Children's Hospital of Georgia's front doors. Opened in 2015, the Ronald McDonald House offers free housing for any family with seriously ill children.
As part of Augusta University Medical Center—and connected via a short walkway—Children's Hospital of Georgia is also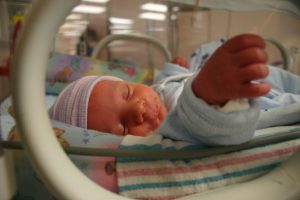 the only medical complex in the state where both mother and baby are cared for under one roof. This means that as soon as she is able after delivery, a mother may be wheeled from the OB unit on the 7th floor of the adult medical center to the neonatal intensive care unit on the 5th floor of the children's hospital, in order to see and help care for her child.
Some of the specialized procedures available at Children's Hospital of Georgia include exit procedures where babies are delivered by Caesarean section with the cord still connected to the placenta, allowing surgeons to perform interventions then cut the cord. All forms of invasive pre-natal diagnosis are available, as well as shunts for posterior urethral valves, amnioreduction, fetal blood transfusions and "bubble studies" for possible congenital heart defects. Evaluations for congenital heart defects, musculoskeletal defects such as diaphragmatic hernia, omphalocoele, gastroschisis, bowel obstructions and many more are readily accomplished.
"We care for any organ that requires that something be done at the time of delivery or before delivery," said Howell. "We're all here, ready to act depending on the baby and time of delivery."