Specialized services for clubfoot and scoliosis are available right here in Augusta
On paper, the conditions clubfoot and scoliosis are very different. But they have one commonality: the need for a pediatric orthopedic surgeon and other specialties at a major children's hospital for ongoing treatment and management.
After fractures, clubfoot and scoliosis are two of the most common conditions that Dr. Gregory Kalv sees in his pediatric orthopedic practice at the Children's Hospital of Georgia. Because of the specialty care required, Kalv and his colleagues, Drs. Styles Bertand, David Cearley and Austin Shiver, help families who drive from as far as four hours away for sometimes weekly visits, depending on treatment.
"There are only a handful of children's hospitals in the state that offer surgical and nonsurgical treatment for clubfeet and scoliosis, especially when you include early onset and syndromic scoliosis," said Kalv, "We're fortunate that we have one here in Augusta. We have three pediatric orthopedic surgeons and a non-operative specialist with combined experience of over 40 years."
The Difference of a Children's Hospital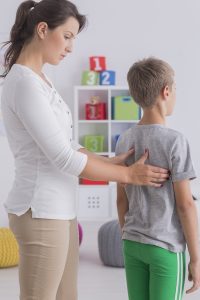 With clubfoot, the most common question asked by families is, "Will my child be able to walk normally?"
The answer is most likely, said Kalv, but treatment involves years of follow-up. "Many people believe football player Troy Aikman had clubfoot," he said. "There are people you see every day who had clubfoot and you wouldn't know it."
Clubfoot is usually diagnosed at birth but can be diagnosed in utero. Services at CHOG include serial manipulation and casting as well as surgical release along with foot and tendon reconstruction for recurrent clubfoot. "We treat in infancy when we can, before walking age," said Kalv," but we see all ages from newborn to walking age. Our goal is to get the foot in a walking position that's functional and not painful so children can wear regular shoes, walk, run and play."
Scoliosis is a little more complex. This curvature of the spine can occur in different forms—all of which are treated at CHOG—including: congenital scoliosis, where babies are born with an abnormal spine; syndromic scoliosis, which may affect children with cerebral palsy or other syndromes; early-onset scoliosis, which can occur even during infancy; and the most common form, adolescent scoliosis, which typically affects girls ages 10 to 13 during a growth spurt period.
For adolescent scoliosis, treatments can range from a custom brace to spinal fusion surgery. "But you shouldn't fuse the spine of a very young child," said Kalv. In early-onset scoliosis in children younger than 3 or 4, Kalv and his team employ ongoing spinal casting, which is performed under anesthesia using a specially designed table and technique, which is currently only available in the state at CHOG in Augusta and centers in Atlanta.
Similarly, for children ages around 4 to 9, the pediatric orthopedic team at CHOG offers scoliosis surgery using an instrumentation system of growing rods that help anchor the spine but account for growth. The newest system offered at CHOG features growing rods with a magnetic actuator that can be lengthened externally during clinic visits with a magnet, avoiding the need for surgeries every few months for adjustment. There is a similar system being used to lengthen the legs of children with severe leg length differences.
"We're here as a resource," said Kalv. "We're treating complex cases every day using the latest surgical techniques and, in many cases, working alongside colleagues in cardiology, pulmonology, physical therapy, neurosurgery and plastic surgery. We're treating pediatric patients with fractures, complex disorders of the spine, cerebral palsy, sports injuries, limb deformity, hip dysplasia and even cancer. Not every hospital has that. Families of children who have a complex issue should come to a children's hospital with many specialties, and that's what we have right here."
Road Trip
The pediatric orthopedic team at the Children's Hospital of Georgia also staffs clinics in Dublin, Athens, Valdosta, Albany and Waycross almost every month to care for children and families affected by clubfoot, scoliosis and many other conditions.