A multidisciplinary sleep clinic helps families with tough sleep issues
Sleep: It's among the top issues for parents—both sleep for themselves and sleep for their children.
After some trial and error, most babies settle into a sleep routine, but sleep issues in children can arise anytime from infancy to age 18, says sleep medicine specialist Dr. Katie McKie at the Children's Hospital of Georgia. And when general pediatricians screen for problems using the BEARS tool during well-child visits, that's when referrals often come to her. Together with the area's only dedicated sleep lab for children, McKie treats disorders ranging from sleep apnea and snoring to sleep walking and night terrors.
But it's the more complicated sleep problems that could necessitate further treatment—which is why McKie and pediatric ENT surgeon Dr. Drew Prosser recently launched a new multidisciplinary clinic dedicated to those issues.
Multidisciplinary Care for Tough Sleep Issues
Sleep apnea in children is most commonly caused by large tonsils or adenoids. Obstructive sleep apnea tends to become an issue in kids between the ages of three and eight, which is when these organs can grow large, said McKie. Childhood obesity is another factor. And while sleep apnea affects between 2 to 4 percent of the general population, it can be as high as 50 percent in certain populations such as children with Down Syndrome, according to Prosser.
Removal of the tonsils or adenoids is a surgery that Dr. Prosser performs commonly and with great success to resolve sleep disorders. However, even after surgery, a subset of patients continues to have persistent sleep problems.
In most parts of the country, these children might spend months visiting multiple specialists before receiving a treatment plan. But a growing trend at larger children's hospitals is a complex sleep clinic that combines experts in pulmonary, ENT, nutrition, plastic surgery and respiratory therapy who together see patients at one visit. This strategy rapidly reduces time to treatment, a key factor in improving learning in sleep-deprived kids.
"The evidence that poor sleep quality affects a child's ability to learn is well-recognized," said Prosser. "But the data also shows that if you treat poor sleep, the ability to learn improves, as do neurocognitive outcomes, inattentiveness, behavior issues and poor school performance."
Prosser reached out to McKie about partnering on the complex sleep clinic last year after seeing the benefits firsthand at a similar clinic during his fellowship at Cincinnati Children's Hospital: "Instead of all of these conversations with clinicians taking place over several months and several visits, we are able to streamline care into one visit and ensure everyone is on the same page."
Because Sleep is Very Individual
The process begins with a referral to either McKie or Prosser for a sleep issue. Once the child has been evaluated and/or treated (but continues to experience sleep issues), either physician can determine to enroll him or her into the complex sleep clinic.
Persistent sleep disorders require very individualized treatment, but some of the more common causes can include:
Enlargement of lingual tonsil tissue
Adenoid tissue regrowth
Skeletal or other abnormalities such as a small jaw or small or short tongue
Laryngomalacia or floppy voice box
At the clinic, families benefit from McKie's pulmonary/sleep experience and Prosser's ENT knowledge. They may also speak with a nutritionist if obesity is a factor. A pediatric plastic surgeon can examine children with certain craniofacial anomalies, and respiratory care may become involved for patients who could benefit from Continuous Positive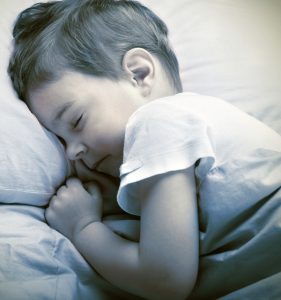 Airway Pressure (CPAP) or other positive pressure devices. Other specialists are brought in as needed.
"It's wonderful that we're able to offer this clinic to our patients now," said McKie. "It's so beneficial to families and they love being able to see all of their specialists at the same place and at the same time. Families can be surprised that there is a whole specialty dedicated to sleep, especially sleep in children, but they are pleasantly surprised to know that it's available."
Slumber On
Most children with sleep issues will require a sleep study and are evaluated overnight in the pediatric sleep lab, located on the fourth floor of the Children's Hospital of Georgia—and may be re-evaluated again following treatment. The sleep lab performs about 50 to 60 sleep studies a month on children, so a kid-friendly atmosphere is a must. Thanks to specially trained pediatric technicians, toys and games, children often feel like they're at a "spend-the-night party," said McKie, even when they have to undergo complicated lead and wire placements. As a result, she said, "Rarely have we had a child unable to complete a sleep study. The techs do a fantastic job to make the sleep study like a game so that it's more fun for the kids."