Dr. Ted Johnson's pediatric cancer clinical trial is based on a drug developed at MCG—and is attracting national attention from families and physicians
Eight-year-old Coulter Hnatt had been fighting a brain tumor for more than half his young life—and he was running out of options.
But a mom doesn't give up. Courtney Hnatt was scouring the Internet and its network of cancer parent forums and had been following Dr. Ted Johnson's Indoximod pediatric immunotherapy clinical trial at the Georgia Cancer Center for six months. It was time to make contact.
After the Hnatts met with Dr. Johnson and became convinced of his sincerity, Coulter became the first child enrolled on December 9, 2015. For over a year now, the Hnatt family has lived in the Ronald McDonald house just steps away from the Children's Hospital of Georgia where Coulter receives his comprehensive treatment, which includes the Indoximod pill, chemotherapy, Gamma Knife radiation and daily physical therapy.
"This was our only hope," said Courtney. "Dr. Johnson gave us the time we needed…[and] Coulter is better today than he was 11 months ago. His quality of life is better."
For mom Courtney and dad Mike, the change in Coulter's circumstances is encapsulated in a family vacation to Wyoming last summer, where the 8-year-old was doing typical 8-year-old things: kayaking, horseback riding, whitewater rafting, ropes and challenge courses and ziplining—without any pain at all.
Coulter isn't out of the woods yet—he is starting a new kind of chemotherapy that required additional FDA and internal IRB approval. He is also one of the many patients that Dr. Johnson and his team are striving to provide hope for through their first-in-the- U.S. clinical trial.
Hope for relapsed cancer
Dr. Ted Johnson was an MD/PhD student at the Medical College of Georgia in the 1990s, working with Dr. David Munn and his colleague Dr. Andrew Mellor, who discovered the role of the enzyme IDO in protecting a fetus from being attacked by the mother's immune system during pregnancy.
They made the groundbreaking realization that cancerous tumors likewise use IDO to fool the immune system into tolerating, rather than attacking, the growing cancer— and developed drugs to block IDO.
One of those drugs, Indoximod, is the focus of Dr. Johnson's trial, which combines the drug with conventional cancer therapy (chemotherapy and radiation) to target brain tumors. The combination therapy creates a synergy that both makes the treatment work more potently and requires lower doses; thus, the overall therapy is meant to be less toxic and children seem to have a resulting higher quality of life and fewer side effects.
The promise of the research is such that the national Hyundai Hope on Wheels grant program awarded Dr. Johnson a rare second round of funding to support his work this past year.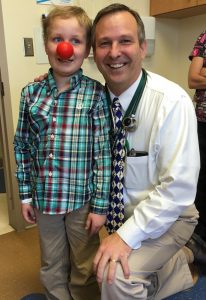 The trial is also attracting interest from families at major cancer centers from across the nation, who like the Hnatts, have traveled to Augusta for care. "A fairly universal sentiment among the families and the patients is that they are just generally feeling better, generally doing better," Dr. Johnson said in an interview with The Augusta Chronicle. "They are able to go on vacations, be in school, spend time with their friends. They are able to have their birthday parties, sometimes birthdays they never expected to get to. These are things that really impact how they view the time they are able to spend with their families."
Rare Find
Dr. Johnson's immunotherapy clinical trial is part of an innovative model developed at the Georgia Cancer Center designed to rapidly bring forward promising new immunotherapy drugs from the pre-clinical pipeline into pediatric clinical trials. The Medical College of Georgia is conducting a fundraising campaign to help significantly increase the number of children who could have access to this trial.
To learn more, contact Eileen Brandon at 706-825-4779 or ebrandon@augusta.edu. To learn about enrolling in the trial, contact Robin Dobbins, RN, at 706-721-2154.