Aamisha Gupta, MD; Megan Jarrard Ragan, RDCS; Zahid Amin, MD
Infants of diabetic mothers are at high risk of symptomatic hypertrophic cardiomyopathy, with an incidence of approximately 12 percent. In cases of severe septal wall thickening, there is inadequate ventricular filling leading to biventricular dysfunction, which digresses to tachycardia, respiratory distress and decreased cardiac output. Commonly, medical therapies aim at decreasing the heart rate with beta blockers to allow for prolonged ventricular filling and sufficient preload. Venous arterial extracorporeal membrane oxygenation (VA-ECMO) has been used as an adjunct therapy in those patients requiring additional support. Complications, such as aneurysm formation related to ECMO cannula, are extremely rare.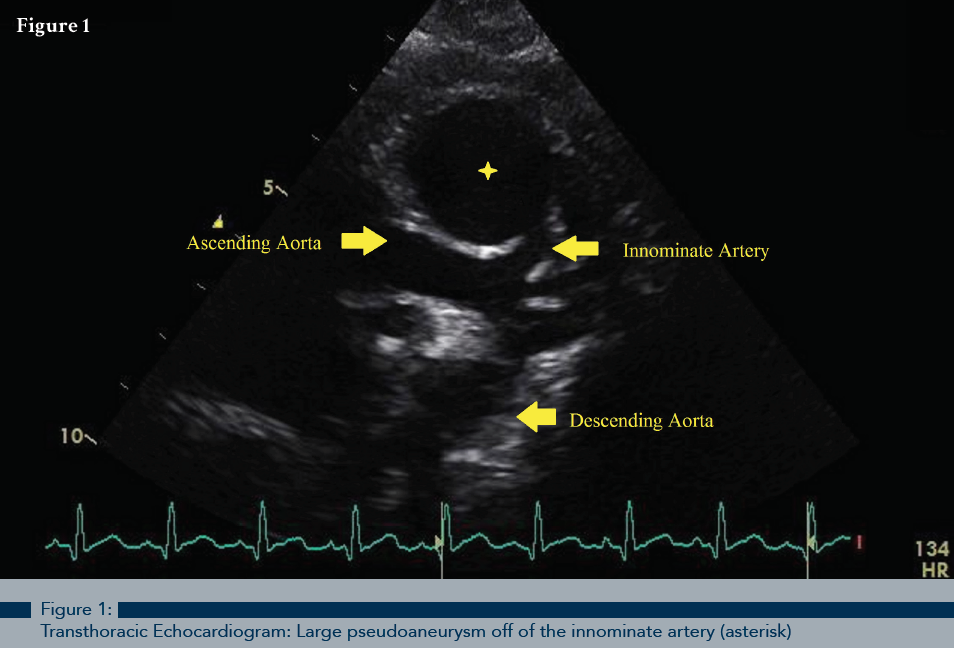 We describe a case of a full-term infant of a diabetic mother with history of severe hypertrophic cardiomyopathy and pulmonary hypertension, who was placed on VA-ECMO for four weeks. After ECMO decannulation, he was found to have a large innominate artery aneurysm by transthoracic echocardiography. Serial echocardiograms revealed progressive increase in aneurysm size. The dimensions of the aneurysm were confirmed by CT angiography. Due to high risk of aneurysm rupture, vascular interventional surgery and pediatric cardiothoracic surgery were consulted. All modalities declined to intervene or operate, so the patient was taken to the hybrid catheterization lab for percutaneous repair.
Initial diagnostic angiography was performed with a 4F femoral arterial sheath, which was exchanged for a 6F delivery sheath for intervention. Of note, minimizing total time with arterial sheaths in place was paramount to decrease the risks associated with large-size arterial sheaths. Angiography demonstrated occlusion of the distal right carotid artery. This had been ligated previously by pediatric general surgery after ECMO decannulation. The aneurysm measured 24 mm x 25 mm. Under fluoroscopic guidance, two 6 mm x 22 mm atrium cast premounted covered stents were deployed in a tandem fashion to effectively isolate the aneurysm and maintain flow to the right subclavian artery. Follow-up angiography demonstrated near complete occlusion of the aneurysm and normal right subclavian artery flow. The patient's femoral pulses remained post intervention. At six-month follow-up, the echocardiogram demonstrated excellent result with near occlusion of pseudoaneurysm and Doppler color flow to the right subclavian artery.
Maintaining blood flow to the right subclavian artery was important otherwise the blood supply to the right arm would be from vertebral artery, resulting in subclavian steal syndrome. Proximal ligation or device occlusion of the innominate artery would not have caused regression of the aneurysm, as blood from the vertebral artery would have filled the aneurysm in a retrograde fashion.
Review of the literature revealed one case report with aneurysm formation after ECMO, but no account was made as to the management. The complexity of this case was multifactorial: newborn baby, which limited the size of femoral arterial sheath access for stent placement; no management described in the literature; and importance of maintaining flow to right upper extremity while effectively occluding the aneurysm.
This case demonstrates that large aneurysms can be addressed effectively in newborns in carefully selected patients, and a percutaneous option may be a viable and safe option.