MCG Cardiology Fellowship Training Program receives the 2016 Diversity in Cardiology Award
The Medical College of Georgia at Augusta University's (MCG) Cardiovascular Disease Training Program received notification from the Association of Black Cardiologists that the program was the recipient of the ABC Diversity in Cardiology Award for 2016. The prestigious award has been received by many of the preeminent cardiovascular divisions in our country. Previous recipients include Brigham and Women's Hospital in Boston, Duke University, Emory University, Johns Hopkins University, Ohio State University, the State University of New York (SUNY) Downstate Health Sciences Center, the University of Iowa and Vanderbilt University. Dr. Vincent J.B. Robinson, program director for the past 14 years, accepted the award on behalf of the program at the black tie dinner Oct. 1, 2016, in New York City.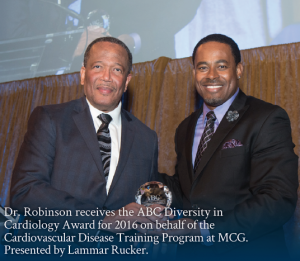 The award not only seeks to see enrollment of minorities in cardiovascular disease training programs but also looks at the trajectory of these graduates once they leave the training program. The minority graduates from the MCG Cardiovascular Training Program have had a spectacular trajectory of success upon graduation. Some of the graduates are listed below with their achievements.
Dr. Mulugeta Fissha
Dr. Fissha trained in cardiovascular diseases at MCG from July 1, 2007, to June 30, 2010. Fissha has the distinction of having obtained a certificate in clinical translational science while training at MCG. He subsequently went on to complete his interventional cardiology training at the Newark Beth Israel Medical Center.
Dr. Uzoma Ibebuogu
Dr. Ibebuogu completed his internal medicine residency at MCG before matching into the Cardiovascular Disease Training Program from July 1, 2007, to June 20, 2010. During the training program, he won several accolades for his research. He was second runner-up for the Young Cardiovascular Researcher in Clinical Research for his research in congestive heart failure. He received his prize at the Annual Scientific Sessions of the American College of Cardiology in March 2009. In March 2010, he returned with his project on the use of the D-dimer tests to detect atrial thrombosis and was second nationally for the best research poster competition at the American College of Cardiology meeting in March 2010. After graduating from the General Cardiology Program, Ibebuogu completed a one-year interventional cardiology fellowship at the Cedars- Sinai Medical Center UCLA. This allowed him to become one of the most highly trained TAVR specialists for that year in the new procedure pioneered in the United States at Cedars-Sinai Medical Center. He has gone on to initiate the TAVR program at the University of Tennessee Health Science Center. He has recently been promoted to associate professor in that institution.
Dr. Almois Mohamad
Dr. Mohamad trained in cardiovascular diseases at the MCG from July 1, 2009, to June 30, 2012. During his final year, he served as chief cardiology fellow. He has presented his research work nationally at the American College of Cardiology meeting in March 2011. He is employed at the Jackson Cardiology Associates Professional Association in Jackson, Mississippi. He practices in interventional cardiology, having completed his interventional cardiology fellowship at Tulane University from July 2012 to June 2013.
Dr. Mbu Mongwa
Dr. Mongwa trained in cardiovascular diseases at MCG from July 1, 2005, to June 30, 2008. Mongwa subsequently completed the electrophysiology fellowship at SUNY Downstate in New York. He has been employed at the Carle Clinic on the main campus in Urbana, Illinois. Mongwa functions as the cardiac electrophysiologist and congestive heart failure specialist at the Carle Clinic.
Dr. Eze D. Uche
Dr. Uche trained in cardiovascular diseases at MCG from July 1, 1994, to June 30, 1997. Uche has a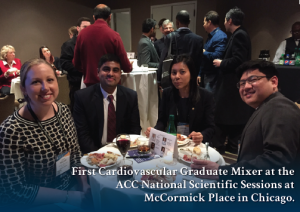 thriving private practice in Leesburg, Florida. Uche is trained in pharmacy and holds a Doctor of Pharmacy.
Among our current cardiovascular disease trainees, there are two outstanding minority fellows: Drs. Albert Sey and Michael Ibe. These individuals seek to follow in the illustrious path of their groundbreaking mentors. The Cardiovascular Disease Training Program is delighted to support the mission of Augusta University, which is an equal opportunity institution.