Yong Park, MD
In 2015, Georgia legalized limited use of medical marijuana, and in May of 2017, the number of conditions for which it could be used expanded. The medical community has focused in on cannabidiol, a compound that is one of the main constituents of cannabis but without the psychoactive properties that THC in marijuana has.
Currently at Augusta University, cannabidiol treatment is being provided to children with intractable epilepsy syndromes through the State of Georgia Cannabidiol Trial. This trial consists of two studies: CBD-01, which is approved by the FDA for two patients and CBD-02, which is a multi-site research study that is approved by the FDA and DEA; CBD-02 has open study locations in Augusta, Savannah and Atlanta and is being led by Dr. Yong Park, a pediatric epileptologist at Children's Hospital of Georgia at Augusta University.
The children receiving cannabidiol have largely exhausted nearly all viable FDA-approved treatment options. The investigational medical product, Cannabidiol (CBD), is in the form of Epidiolex© and is being examined as an alternative treatment. Epidiolex© is manufactured and supplied by Greenwich Biosciences, a UK-based pharmaceutical company that currently manufactures CBD.
The CBD-01 study began enrollment in December 2014 and the CBD-02 study, an open-label, multi-center research study, began enrollment in January 2015. The enrolled patients were between the ages of 1 and 18 and were only eligible for participation in the study if they had tried at least four antiepileptic drugs, a combination of two antiepileptic drugs, and continued to have at least four countable seizures in two consecutive months (each defined as 28 days). The State of Georgia Cannabidiol Studies, CBD-01 and CBD-02, cumulatively have enrolled 53 patients. As of May 2017, there were 48 children continuing to receive treatment who had all completed 12 months (1 year) of treatment, 23 of the 48 children had completed 24 months (2 years) of treatment, and only 4 children had completed 30 months (2.5 years) of treatment.
The study design for CBD-02 is displayed in Figure 1 and includes a baseline period, titration period, maintenance period, optional secondary titration period, and treatment extension period (TEP).
Titration commences with a dose of 5 mg/kg/day and is increased every seven days until a dose of 25 mg/kg/day is achieved. After 26 weeks of treatment at 25 mg/kg/day, patient visits occur quarterly, unless the patient enters an optional secondary titration period or there is a medical reason that requires more frequent visits.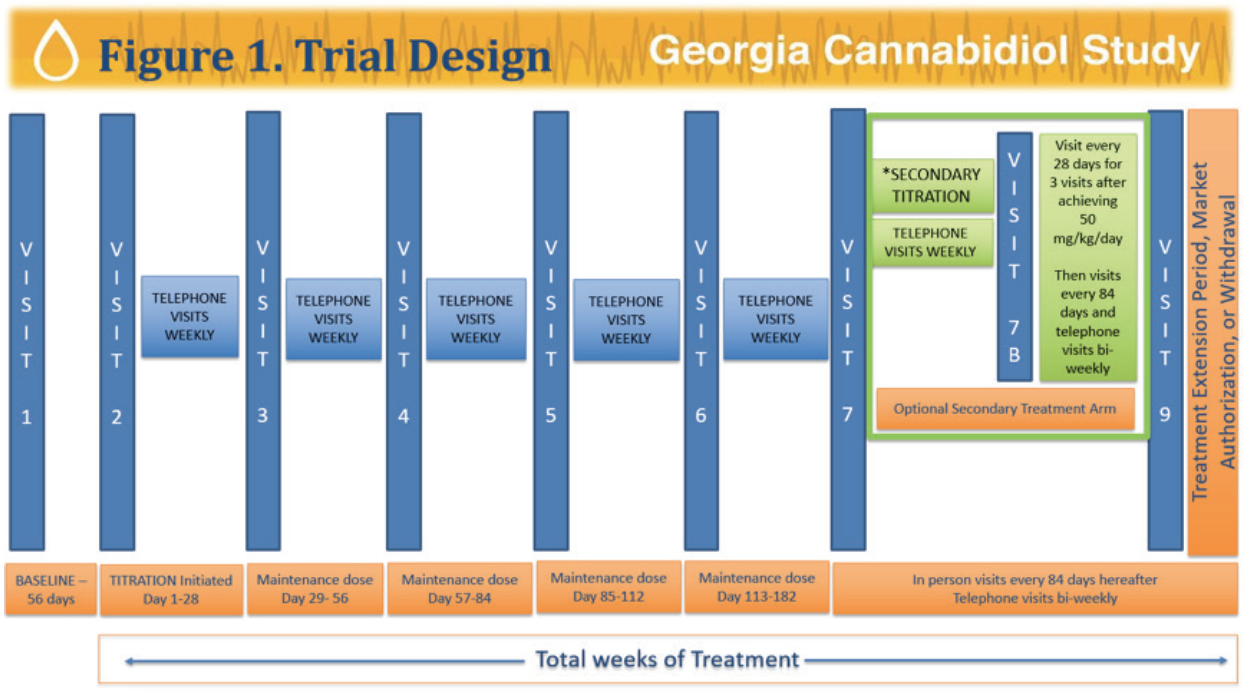 The secondary titration period provides incremental increases in the CBD dose of 5 mg/kg/day no sooner than every week, until the optimal efficacy and tolerability is achieved or the patient reaches a maximal dose of 50 mg/ kg/day. After any change in dose (i.e. increase, decrease, and titration period), patient visits occur every 28 days for 3 months, with a weekly safety telephone call. After 52 weeks of treatment, patients enter into the TEP, where visits normally occur quarterly. Throughout the entire study, patients record seizure frequency, seizure freedom, and seizure rescue medication daily, via an electronic patient diary app.
Interim data from the State of Georgia Cannabidiol Study was presented in 2016 at the National Meeting of the American Academy of Neurology and at the American Epilepsy Society Annual Meeting. The interim analysis demonstrated that in this open-label, small sample size study, the use of CBD as a treatment for children with mixed indications of treatment-resistant epilepsy was well tolerated, with a positive response for many patients. Conclusions of interim data presented on December 5, 2016 showed the following specific improvements:
There was a decrease in major seizure frequency, with major seizures for these patients defined as complex partial with motor involvement, tonic, atonic, and generalized (including secondarily) tonic clonic seizures, during the initial titration period (reduction of 32 percent compared to baseline) as well as during all treatment periods when compared to baseline period (63 percent to 69 percent).
The frequency of seizure-free days increased during CBD treatment when compared with baseline periods. The percent of patients reporting total seizure-free days during treatment periods ranged from 3 percent through 20 percent.
Treatment has been well tolerated in doses up to 25 mg/kg/day, with no CBD-related serious adverse events. Side effects were noted in 90% of patients, but these were relatively minor (such as upper respiratory illness, diarrhea, irritability and flu-like symptoms (Park, et al. 2016). No patient withdrew from the study due to side effects.
The study continues with the goal of providing ongoing treatment with the study drug until it is authorized by the FDA and DEA for market use (i.e. becomes an approved prescription drug). GW Pharmaceuticals' production of Epidiolex has been granted orphan status and has been placed into Fast Track Approval by the FDA fo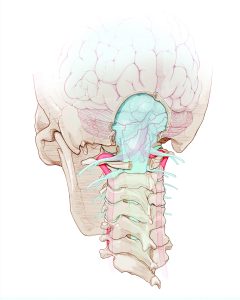 r the treatment of both Dravet and Lennox-Gastaut Syndrome. The New England Journal of Medicine recently presented data in the May 2017 issue on the treatment of patients with Dravet syndrome. The article concluded that "among patients with the Dravet syndrome, cannabidiol resulted in a greater reduction in convulsive-seizure frequency than placebo and was associated with higher rates of adverse events" (Devinsky, et al. 2017). Although the results to date for both the State of Georgia Cannabidiol study and those conducted independently by GW Pharmaceuticals have demonstrated a positive response for many patients, the drug is still considered an investigational drug.
The results thus far are very encouraging with improvements noted in many patients who did not respond to available treatment options. Dr. Yong Park, the Principal Investigator of the State of Georgia Cannabidiol Studies project, is very thankful for this opportunity and for the support of the State of Georgia and Greenwich Biosciences in providing this treatment option to the children of Georgia.
References:
Devinsky, O., MD, Cross, J. H., Ph.D., F.R.C.P.C.H., Laux, L., MD, Marsh, E., MD, Miller, I., MD, Nabbout, R., MD, Scheffer, I., M.B., B.S., Ph.D., Thiele, E., MD, Ph.D., Wright, S., MD (2017). Trial of Cannabidiol for Drug- Resistant Seizures in the Dravet Syndrome. New England Journal of Medicine, 376. Doi: 10.1056/NEJMoa1611618
Park, Y., MD, Flamini, J. R., MD, Moretz, K., MD, Mathur, S., Ph.D., Gregory, M., MD, Ph.D., Long, S., M.Sc., Starnes, N., R.N., Pope. J., M.B.A, Diamond, M. P., MD (2016). An open label, multi-center study to investigate the safety of cannabidiol (GWP2003-P) in children with treatment resistant epilepsy [Abstract]. American Epilepsy Society Annual Meeting 2016. Retrieved from https:// www.aesnet.org/meetings_events/annual_meeting_ abstracts/view/198689