Scott Y. Rahimi, MD, Cargill H. Alleyne Jr., MD
The management strategies of intracranial vascular lesions continue to evolve rapidly. The neurosurgeon's armamentarium has grown tremendously with a vast array of microsurgical and endovascular techniques. Advancements in knowledge and technology have helped to reduce the high morbidity and mortality historically associated with this disease. The training of specialists who treat vascular disorders has also become more complex. Neurosurgeons comfortable with both open microsurgical and endovascular techniques can combine these skills to safely treat a broad spectrum of cerebrovascular diseases with minimum morbidity. At present time, both endovascular, open microsurgical, and radiosurgical techniques are frequently used safely and effectively to treat a wide variety of vascular lesions. This article will focus on the endovascular treatment of difficult cerebrovascular lesions.
Neuroendovascular service at Augusta University Medical Center
Our service is equipped to treat a wide variety of complicated cerebrovascular disorders including aneurysms, AVMs, arteriovenous fistulas (including vein of Galen malformations), moya-moya disease and carotid disease. With two dually trained cerebrovascular neurosurgeons (Dr. Scott Rahimi and Dr. Cargill Alleyne) in our department, our residents get a robust exposure to complex endovascular procedures, as evidenced by the fact that our graduating residents are well above the 70th percentile in endovascular case volumes. In fact the graduating residents in 2014, 2015, 2016 and 2017 were at the 84th, 74th, 93rd and 89th percentile, respectively, in "endovascular therapy for tumor or vascular lesions" (ACGME data). Our stroke service has grown with the recent addition of a third neurointerventionalist, Dr. Sam Tsappidi in the Department of Neurology.
Our quality data has been excellent. Our 2016 data (http://www. augustahealth.org/how-we-compare/mortality-survival-data/ stroke-outcomes) show in our coil embolization procedures for aneurysms that the overall mortality was 1.23 percent, and the mortality for unruptured aneurysms was 0percent. We are proud of the fact that our mortality rate for unruptured aneurysms for more than a decade has been 0 percent, compared to a rate of 0.5-1.7 percent in the literature (AHA/ASA Guidelines for Management of Patients with Unruptured Intracranial Aneurysms, Stroke 2015, Thompson, et al). In addition, our morbidity rate for diagnostic angiograms is 1.4 percent, which is half of the published rate of 2.63 percent (Kaufmann TJ, et al: Complications of diagnostic cerebral angiography: evaluation of 19,826 consecutive patients. Radiology. 2007;243:812-9).
We strive to stay on the cutting edge of technology. In 2011, we upgraded to a state-of-the-art Phillips Allura neuroangiography bi-plane suite, which has several unique attributes, including the first in the South (and only the third in the nation) to have the VasoCT option. We now have two such suites at our institution, in addition to a newly installed hybrid OR with single-plane angiography capability. The senior author participated in one of the first training courses in the country for the Enterprise ste nt in 2007, and our institution was one of 13 sites initially invited to participate in the Enterprise 2 IDE trial in 2016. (Currently 23 sites are enrolled with a maximum of 25 projected). We currently have several of the newer stent and flow diversion technologies available at our institution, including the Pipeline Endovascular Device, LVIS Jr. stent, and shortly, the PulseRider device. This latter device is indicated for use with neurovascular embolic coils in patients ≥ 18 years of age for the treatment of unruptured wide-necked intracranial aneurysms with neck widths ≥ 4 mm or dome to neck ratio < 2 originating on or near a vesse l bifurcation of the basilar tip or carotid terminus with at least a portion of the aneurysm neck overlapping the lumen of the parent artery (Spiotta et al: Results of the ANSWER Trial Using the PulseRider for the Treatment of Broad-Necked, Bifurcation Aneurysms. Neurosurgery 81:56-65 [https://doi.org/10.1093/ neuros/nyx085]; Alleyne CH: Review of "Results of the ANSWER Trial Using PulseRider for the Treatment of Broad-Necked, Bifurcation Aneurysms". Neurosurgery July 21, 2017 [https:// doi.org/10.1093/neuros/nyx402]). The latter device is currently is process of IRB approval at our institution.

We provide case examples of some of these complex cerebrovascular disorders and their endovascular treatment.
List of ongoing endovascular (IRB) trials
PulseRider Aneurysm Neck Reconstruction Device (HDE), (Pending), PI: Cargill Alleyne, MD
Glue embolization followed by gamma knife radiosurgery for treatment of ruptured brain AVM's not amenable to surgical resection, PI: Scott Rahimi, M.D
A Prospective, Multi-center, Single Arm Study to Evaluate the Safety and Effectiveness of the CODMAN ENTERPRISE® Vascular Reconstruction Device and Delivery System when Used in Conjunction with Endovascular Coil Embolization in the Treatment of Wide-necked Saccular Intracranial Aneurysms (IDE), PI: Cargill Alleyne, MD
Cordis Enterprise Vascular Reconstruction Device and Delivery System, PI: Cargill Alleyne, MD
Low-Profile Visualized Intraluminal Support Device (LVIS and LVIS Jr), PI, Scott Rahimi, MD
Humanitarian Device Use of Neuroform Microdelivery Stent System; Neuroform EZ stent system (HDE) 2. Neuroform EZ Stent System (HDE), PI, Cargill Alleyne, MD
Case 1
A newborn was diagnosed with a large Vein of Galen malformation after a workup for heart murmur. By the first week of life, she started to develop worsening heart failure, pulmonary hypertension, respiratory failure, jaundice and seizures. A 3-stage embolization procedure was performed (transarterial coil embolization, transvenous coil embolization, and transarterial glue embolization) with the stages occurring approximately two weeks apart. The patient was 8 weeks old at the final stage of treatment. Her cardiac, respiratory, renal and hepatic function improved after the third stage of treatment. She was discharged at 12 weeks old. At follow up, when she was six months of age, the patient was continuing to gain weight and appeared to be neurologically normal.
Figure 1.1a-c: MRI (a: sagittal view; b and c: axial views) showing large vein of Galen malformation.
Figure 1.2a-d: Cerebral angiogram (a: right ICA injection, AP view; b: right ICA injection, lateral view; c: left vertebral injection, AP view; d: left vertebral injection, lateral view) showing feeding arteries from both the anterior and posterior circulation
Figure 1.3a and b: Cerebral angiogram (a: right ICA injection, AP view; b: right ICA injection, lateral view) after treatment showing residual filling of fistula but with increased visualization of normal arterial tree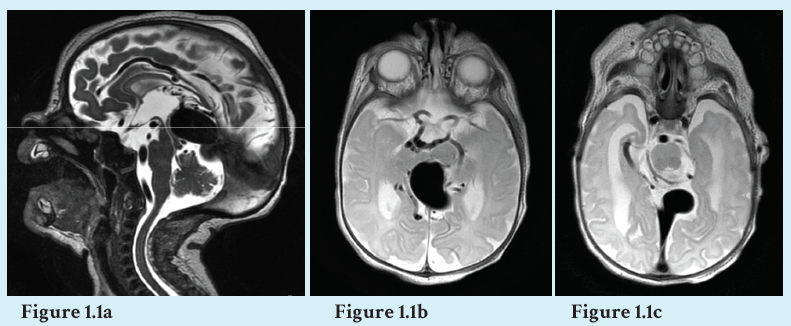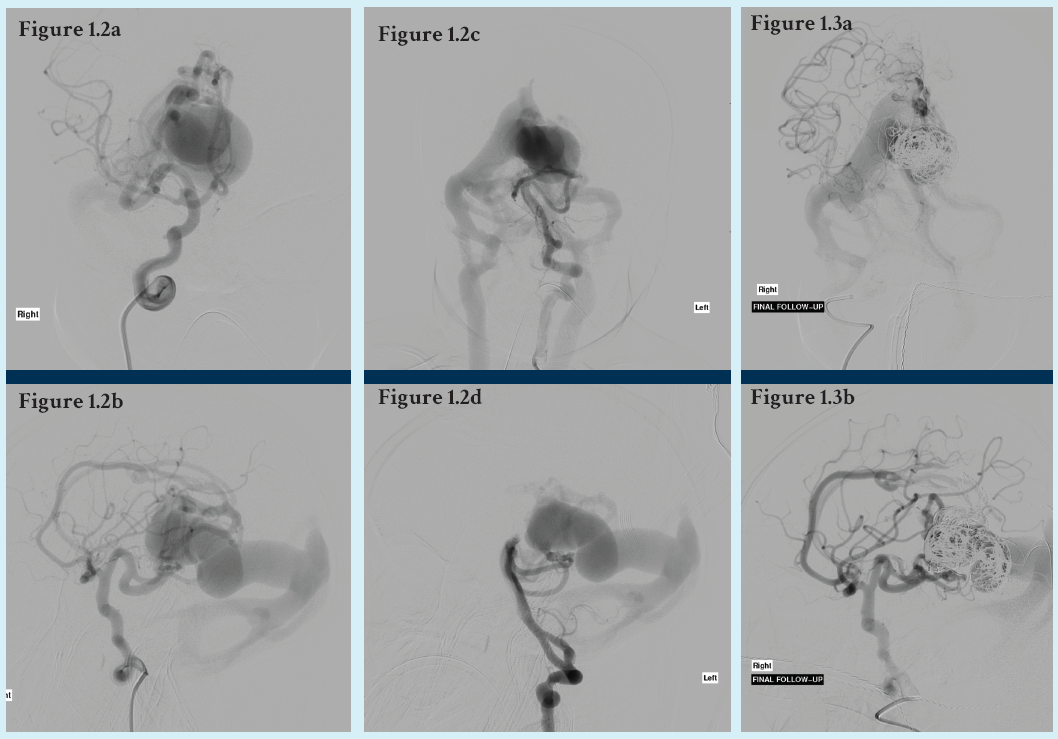 Case 2
A 75-year-old woman presented with progressive diplopia and severe headaches. A CT and cerebral angiogram revealed a large cavernous carotid aneurysm. She was treated with a pipeline endovascular device, and showed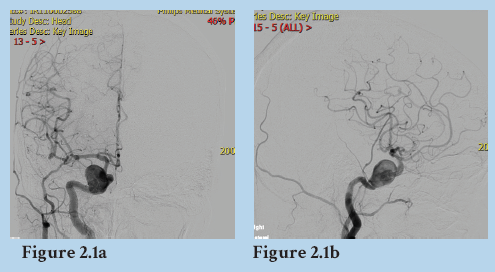 improvement in her symptoms after several weeks. By six months, the aneurysm had completely thrombosed.
Figure 2.1a and b: AP (a) and lateral (b) angiogram showing large cavernous segment aneurysm
Figure 2.2: 3D angiogram showing 17 x 15 x 8 mm aneurysm
Figure 2.3a and b: Fluoroscopy images showing pipeline just before (a) and after (b) deployment
Figure 2.4: Axial CT at 6 months showing resolution of aneurysm
Case 3
A 30-year-old woman presented with sudden onset of severe headache and with diffuse SAH and right mesiotemporal intraparenchymal hemorrhage on CT of the head. An initial cerebral angiogram showed a blister irregularity at the basilar apex. A follow-up cerebral angiogram one week later revealed recanalization of the basilar tip aneurysm. Due to the fusiform and shallow nature of the aneurysm, the lesion was treated with an LVIS Jr. stent. No residual aneurysm was seen during the 6-month follow-up study.
Figure 3.1: CT showing diffuse SAH with right mesiotemporal IPH
Figure 3.2a and b: AP (a) and lateral (b) angiogram with slight vessel irregularity at basilar apex/right P1 junction (arrow)
Figure 3.3a and b: one-week follow-up AP (a) and lateral (b) angiogram showing recanalization of previously seen blister aneurysm (arrow)
Figure 3.4a and b: six-month follow-up AP (a) and lateral (b) angiogram showing no filling of the aneurysm (arrow)
Figure 3.4c: LVIS Jr. stent extending from basilar artery into right PCA bridging neck of aneurysm (arrow)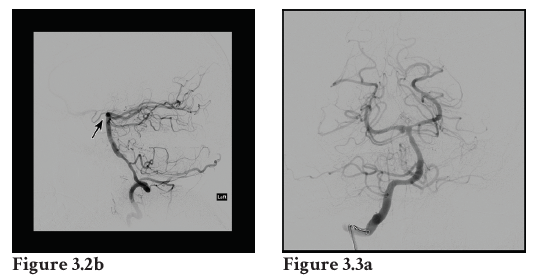 Case 4
A 49-year-old woman with 6-week history of worsening headaches, diplopia, right lid ptosis, chemosis and proptosis. A cerebral angiogram revealed a right carotid-cavernous fistula (CCF) with retrograde venous reflux and an engorged and dilated right superior ophthalmic vein (SOV). The patient underwent stent-assisted coil embolization of the CCF with an Enterprise stent and coils. At 6-month follow-up, the patient had resolution of all her visual symptoms and lid ptosis. An angiogram revealed obliteration of the CCF.
Figure 4.1a: AP angiogram showing right CCF with retrograde venous reflux
Figure 4.1b: Lateral angiogram showing enlarged right SOV (arrow)
Figure 4.2: Skull X-ray showing deployment of the Enterprise stent and coils in the cavernous sinus
Figure 4.3a and b: AP (a) and lateral (b) angiogram showing resolution of the CCF