Quality Improvement Projects
Improving Post-operative Pediatric Tonsillectomy and Adenoidectomy Care
Thomas Holmes1, MD; Hannah Holmes2, RN; William Carroll1, MD;
Drew Prosser1, MD; Brian Shirley1, NP;Krystal Oestriech1, NP; Tia Mode2, RN
1. Pediatric Otolaryngology, Children's Hospital of Georgia
2. Pediatric PACU, Children's Hospital of Georgia
Background:
Post-operative discharge instructions are vital in educating the patients and families on expectations from surgery. Post-operative instructions following tonsillectomy and adenoidectomy varied depending on provider and nurse reviewing the discharge instructions. Recent turnover in providers performing tonsillectomy and adenoidectomy added to the variability in post-operative instructions. Upon survey of Pediatric PACU staff, there was confusion and poor confidence in adequately instructing patients and family on proper post-operative tonsillectomy care. Appropriate education by physicians and nurses will lead to improved satisfaction and outcomes for patients and families. The goal was to identify weaknesses in current post-tonsillectomy and adenoidectomy discharge instruction in order to reeducate the healthcare team and design new discharge instructions.
Methods:
A multi-disciplinary team was formed consisting of physicians, nurses, and pharmacy to evaluate current instructions and make recommendations for improvement. A pre and post-intervention survey was completed by PACU nurses to gauge the level of satisfaction and quality of discharge instructions following tonsillectomy and adenoidectomy in the pediatric population. This team developed a consensus instruction sheet and care plan for all pediatric tonsillectomy and adenoidectomy patients. Physicians and nursing staff were educated on new discharge instructions to ensure uniformity.
Results:
PACU nurses completed pre and post-intervention surveys to gauge satisfaction in discharge instructions. A total of 10 surveys were completed prior to and after new discharge instructions. Average pre-intervention total was 16.1 out of a total of 25 points. Following implementation of new instructions, average total was 25 for a p-value of <0.001.
Conclusion:
New post-tonsillectomy and adenoidectomy discharge instructions and education greatly improved satisfaction and confidence in educating families for staff. With improved education materials and cohesive instructions, improvement in patient satisfaction and outcomes are anticipated. This multi-disciplinary team approach can be utilized in the future to expand to other procedures in an effort to improve post-operative care.
Optimization of Discharge Times for an Adult Head and Neck Surgical Service
Daniel Sharbel, MD; Trevor Getz, MD; Sandra Banks, RN; Audrey Harris, RN; Niki Cail, PT; Wendy Jones, OT;
Kathleen-McHugh, SLP-CCC; Michael Groves, MD; Stilianos Kountakis, MD, PhD
Background:
Discharge (DC) delays are a significant cause of hospital bottlenecks, hospital bed unavailability, and patient dissatisfaction. Early discharge times are an important quality measure in the value-based healthcare system. Early discharges have previously been linked with timely discharge preparation and DC order placement. Hospital-wide discharge order placement by 9 AM remains at 13.5% with 6.7% and 23.2% of patients out of the hospital by 11 AM and 1 PM, respectively. Hospital-wide goals are 35% of DC orders placed by 9 AM and 35% and 60% of daily discharges completed by 11 AM and 1 PM, respectively.
Methods:
Together with the multidisciplinary inpatient care team, we utilized the Plan-Do-Study-Act model for quality improvement to develop interventions designed to facilitate early discharge times. Interventions included conducting a weekly multidisciplinary DC planning conference, completion of electronic DC workflow the night before DC, and placement of discharge order by 9 AM. Chi-square test was used to compare discharge data collected from Fiscal Year (FY) 2018 to historical data from FY 2017.
Results:
From July 2018 to April 2019, the adult inpatient Otolaryngology service admitted 259 patients. Thirty-five (13.5%) patients were admitted for observation, 56 (21.6%) were admitted as extended outpatients, and 168 (64.9%) were admitted as inpatients. 112 patients (43.2%) received discharge order before 9 AM. Seventeen (48.6%) of these patients were observation status, 33 (58.9%) were extended outpatients, and 62 (36.9%) were inpatients. This ultimately resulted in significantly more extended outpatients receiving a timely discharge before 1 PM in FY 2018 compared to FY 2017 (78.6% vs 57.1%, P = 0.03) with no significant difference in length of stay (LOS) in this subcategory (1.1 vs 1.2 days, P = 0.94). There was no statistically significant difference in discharge order times between fiscal years, and there was no statistically significant difference in discharge times between the other patient status categories.
Conclusions & Next Steps:
Use of a multidisciplinary planning approach coupled with timely completion of electronic DC workflow allow for timely discharge in select patients who are undergoing brief, planned admissions. Early DC order placement does not necessarily imply an early discharge time. More work is required to design an optimal DC planning tool that can be used to more efficiently identify and overcome DC barriers. Punctual discharge order placement can be easily adapted across services through prioritization of multidisciplinary discharge planning conferences in daily or weekly workflow and completion of electronic discharge workflow the evening before anticipated discharge.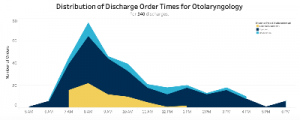 References
1. Durvasula R, Kayihan A, Del Bene S, Granich M, Parker G, Anawalt BD, Staiger T. A Multidisciplinary Care Pathway Significantly Increases the Number of Early Morning Discharges in a Large Academic Medical Center. Qual Manag Health Care. 2015 Jan-Mar; 24(1):45-51
2. Patel H, Morduchowicz S, Mourad M. Using a Systematic Framework of Interventions to Improve Early Discharges. Jt Comm J Qual Patient Saf. 2017 Apr;43(4)-189-196
Turning New Patient Visits into Opportunities to Find Patients with Hearing Loss
Jacqueline Renee Booth, MD
Background:
The prevalence of hearing loss in people 20-69 years old is 14%. Out of those people, 84% of them have never tried hearing aids that would help them. Hearing loss often occurs gradually which may contribute to patients not seeking care. People also associate hearing loss with old age and may resist identifying themselves as aging. Although patients with hearing loss may not start the conversation, clinics can create an opportunity to identify hearing loss. Currently, many clinics do not screen hearing. At baseline, the Otolaryngology department obtained audiograms for patients presenting with hearing problems. There was no screening process for the majority of patients that were seen for problems other than hearing.
Methods:
The Otolaryngology clinic nursing team uses a device called the "adjustable hearing screener & fit check" to screen the hearing of all new patients. This was performed alongside routine vital sign acquisition. They keep a log with the date, patient sticker, and the pass/fail status of the patient's screening. Very few patients refuse the screening. Screening is not done for patients that refuse, that already have hearing aids, that are return patients (since they have previously been screened), or that are seen for their hearing and already have formal audiograms.
Results:
Previous to this intervention, no patients had hearing screening. Since initiation, the Otolaryngology clinic nurses screen an average of 18.3 patients per week that meet inclusion criteria. We have identified on average 1.16 patients per week who fail hearing screening. 3.6% of patients refuse hearing screening. The patients who fail screening are then referred for a formal hearing test.
Conclusion:
Hearing screening is easily added into the daily clinic workflow and has significant potential benefits for patients with unrecognized or unaddressed hearing loss. The Otolaryngology department looks forward to partnering with other AUMC clinics, which also may be interested in identifying patients with hearing loss by adopting this workflow.
Data from 6 representative weeks:

References
Quick Statistics About Hearing. NIDCD. https://www.nidcd.nih.gov/health/statistics/quick-statistics-hearing. Published August 18, 2015. Accessed June 14, 2019.